About Anglian Water
"Inclusion is vital to the success of our organisation. Having a wealth of people from different backgrounds and with different experiences introduces new ways of thinking which in turn informs the ways in which we work. Challenging our thinking and decision-making helps us to continually improve and outperform against our targets. It also better reflects our region and the customers and communities that we serve every single day". – Peter Simpson, Chief Executive Officer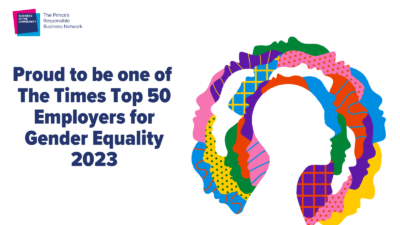 Our customers come from a wide range of backgrounds, and we think our workplace should reflect that. We are committed to making sure all our colleagues feel they belong and are supported to succeed. We have an active Inclusion Community which is a place for anyone interested in diversity and inclusion to connect. We encourage all our colleagues, regardless of gender identity or expression, ethnic origin, nationality, religion or beliefs, age, sexual orientation, disability status or any other protected characteristic, to get involved in our Inclusion Community, which celebrates our different backgrounds and experiences, as well as driving positive change in the workplace. The more our workplace reflects our customers, the better service we can provide for them.
We recognise that everyone has different needs. Certain groups of people do have greater need for support and the removal of barriers to allow them to work in a way that works for them. For example, we know that despite enormous social change in recent decades, women are generally still the primary carers of children. This is why we have policies that target support to women, without excluding other parents. Likewise we know that people are living longer and working longer and more of us will become carers for our parents or other adult family members. This is why we are creating policies that better support carers more broadly than childcare.
Having everyone feel welcomed and valued at work means we can all be happier, healthier and safer and this is fundamental to our business success. Inclusion is the key to our wellbeing; in order to be happy, we need to feel comfortable to be ourselves. It is embedded in our Values – Together we Build Trust, Do the right thing and Are always exploring.
Our Culture
Inclusion is for everyone
At Anglian Water we believe Inclusion is for everyone this means that everyone is welcome, free to be themselves and valued for who they are. The important thing to remember is that we all have a part to play in making inclusion a reality at Anglian Water.
Why is inclusion so important in the workplace?
Inclusion in the workplace is vital to Anglian Water's continued success. It enables everyone to perform at their best and attracting the best talent – being treated fairly, working on a level playing field and being valued for our individuality is what we all deserve and expect; it gets the best out of us.
Enhancing our success – having a wealth of people from different backgrounds and experiences introduces new ways of thinking and challenges us to continually improve and outperform. Reflecting the needs of our customers – we serve our customers every day. By representing and understanding them better, we can serve them better.
Our Activity
Strength In Diversity is a long-term project working with communities to change the diversity of our workforce to better reflect the demographics of the region, especially racial and social diversity. We'll focus on 5 -6 areas within our region, initially starting in Peterborough, working with schools, colleges, job centres and community groups.
From a Company perspective we have committed to:
Educating and sharing awareness
Growing our Inclusion Community
Holiday policy updated to allow for employees to swap holiday for their own festivals
Transgender policy
Family friendly – shared parental leave
Updating PPE – modesty for women, religion and pregnancy
Shortlisted for Water Industry award for Holiday Swap policy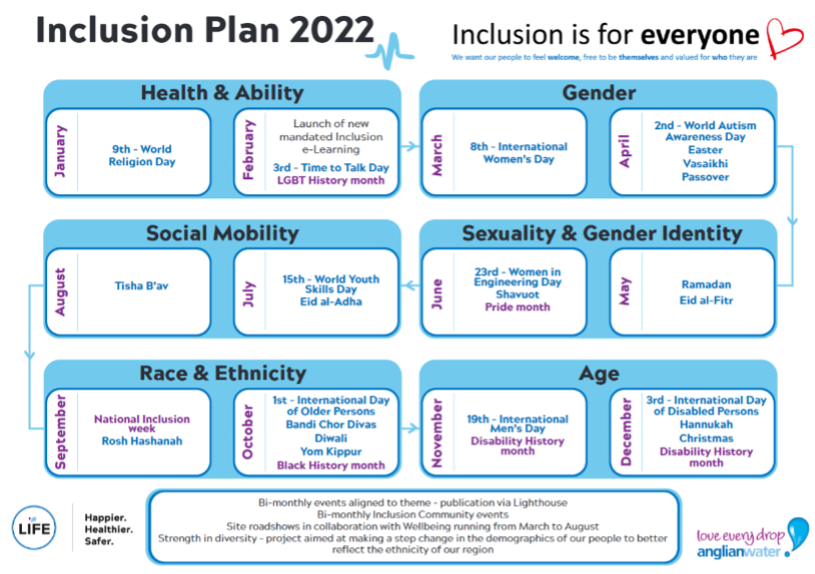 Every other month we hold speaker events and cover topics related to Health and Ability, Race and Ethnicity, Gender, Sexuality and Gender Identity, Age, Social Mobility and Religion and Belief. Over the last year our guest speakers have included:
Anglian Water is sponsoring Lincoln and Peterborough Pride this month. We also have a guest speaker, David Brown who Is the Director of Accessibility & Inclusion for Lincoln Pride; he is also responsible for Sponsorship & Fundraising.

He also does the same role for York Pride and supports several U.K charities with DE&I.


As a recruitment team we have been leading sessions on Neurodiversity and Recruitment'. Our Inclusion Lead Victoria Bannerman also attended Cambridge Job Centre's Be Inclusive, Recruit, Retain event at Cambridge Guildhall and was delighted to speak at the event. It was a great opportunity to share Anglian Water's experience as a Disability Confident Employer and what we're doing to support our customers and colleagues with disabilities and health conditions.
During Black History Month 2022 we were delighted to welcome award-winning executive coach and mentor Dawn Morton-Young, who spoke about the key issues facing black and other ethnically diverse colleagues face at work, how to develop trust with ethnically diverse colleagues, and the importance of creating a culture that promotes belonging
In August we welcomed Ray Berg, UK Managing Partner from Osborne Clarke LLP. Ray discussed social mobility focusing on his story, social mobility initiatives at Osborne Clarke, and what we can do as individuals to promote social mobility.
Pride: On Saturday, 19 July Anglian Water made an appearance at Lincoln Pride, joining the celebrations along with @one as official sponsors of the event again this year. As an inclusive company, Pride is important to us, and it's great to see our alliance partners encompass and reflect our values just as we do. Embracing diversity and celebrating our differences are vital steps in breaking down historic barriers and creating a healthy and safe work culture for each of our people. Joining celebrations such as Pride ultimately helps us show our people and customers that anybody who works for Anglian Water, or would like to, will be valued, treated fairly and respected for their individuality.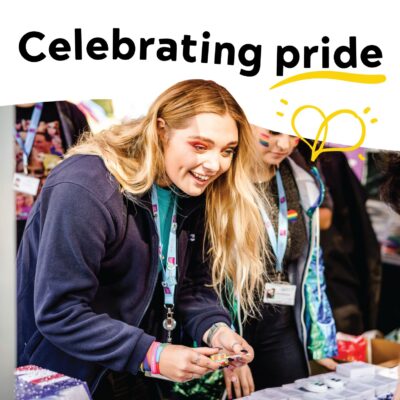 National Inclusion Week: It's National Inclusion Week and we've been on the road hosting workshops, market stalls and internal and external guest speaker sessions for colleagues.
To find out more about inclusion at Anglian Water visit Inclusion – Anglian Water Careers


Anglian Water
Head Office
London, United Kingdom
Company Website
https://anglianwater.co.uk/
Social Channels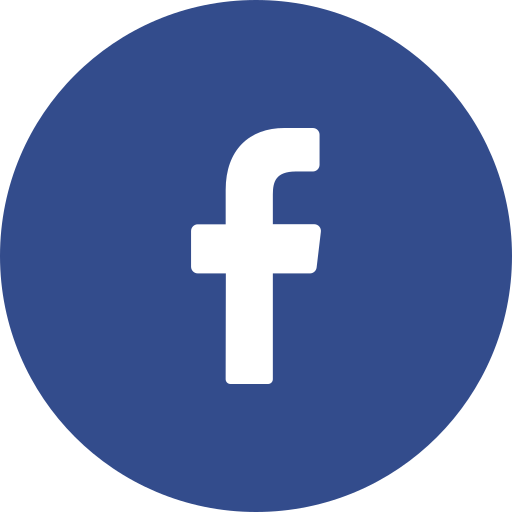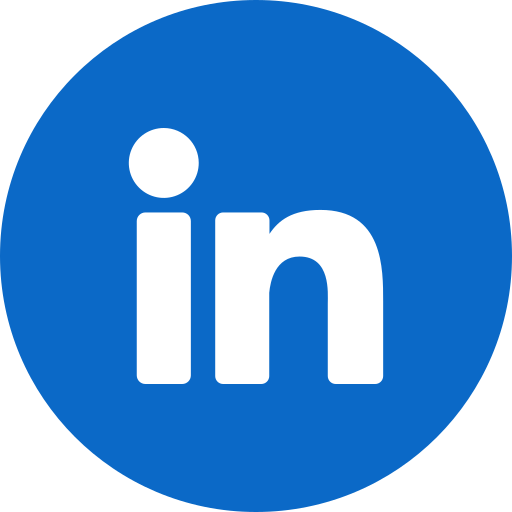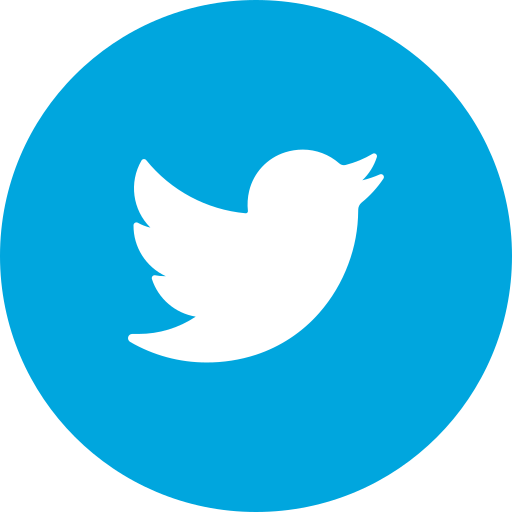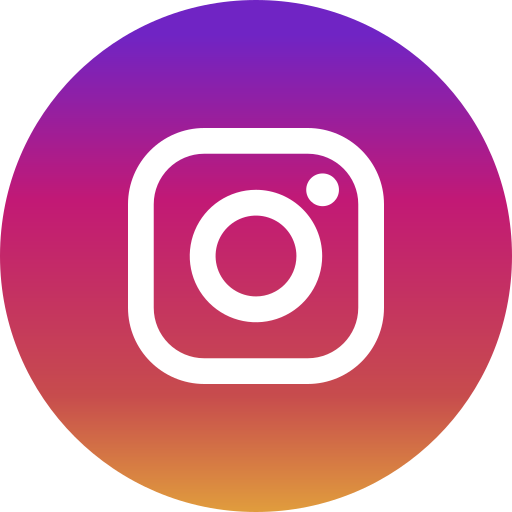 Premium Employer